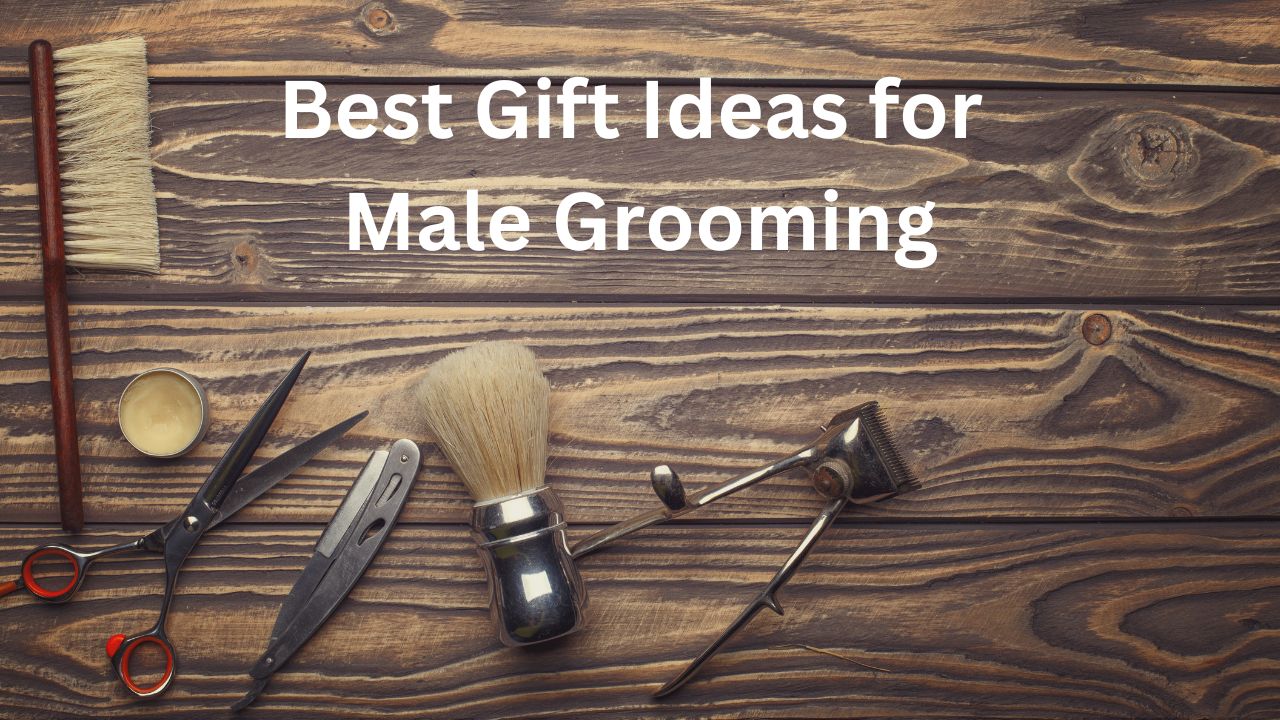 The time when grooming products were only used by women is long gone. Modern men like to look good at all times and use a variety of grooming products to get the desired results. If you are looking to gift a grooming product to a man but have limited budget, this post is definitely for you. We have created a list of 30 amazing grooming products for men which are also the best gifts under $30. Go through this list and you are sure to pick a few amazing products.
Clean hands and feet are very important. Not just for hygiene purposes but to add up to your overall personality. And this 12 pieces Manicure Pedicure Set from Monojoy will do the job flawlessly. It contains a variety of tools, like cuticle clipper, tweezers, nail file, nail clipper, etc. that are made from high-quality stainless steel. Men can add this to their grooming kit or while traveling. Moreover, it comes in a stylish synthetic leather pouch which makes it look manly and attractive.
With this Cut Buddy Template, men can now get professional beard and hair trimming results right at home. Made from plastic and rubber, the template can be used for adjusting all the different hairlines and its compact size ensures that one can easily carry in pocket. With many different types of angles and curves, this Cut Buddy Template will definitely be an excellent addition to every man's grooming kit.
A man is incomplete without a good body groomer. Remington being one of the most popular manufacturers of grooming products for men has introduced the all new PG525 Head to Toe Body Groomer for men. The lithium powered groomer comes with four different attachments which one can use to trim nose and ear hair, trim head hair, use as foil shaver, as well as a body trimmer. It also comes with 3 guide combs to get the desired trimming length.
If you are looking for a gift that can help a men keep the shaving essentials organized, this 3-in-1 Men's Shaving Razor Set from Docooler can be an excellent choice. The set includes a folding shaving razor, a blaireau brush as well as a stand which can be used to hold the razor and brush. The razor included in the set is made from carbon steel to avoid rusting and its foldable design ensures enhanced portability.
If a man likes to trim hair or beard at home, the Chrome Pro 24 Pc Haircut Kit from Wahl is what you should buy. The trimmer included in the set has self-sharpening blades to ensure that the trimming results are always precise and quick. It comes with multiple snap-on combs, a scissor, combs, oil, instruction booklet, etc. making it a perfect grooming kit for men.
Neat hands and feet are integral for a neat personality and this Manicure and Pedicure Kit will help you achieve them. The kit included a total of 13 pieces made from stainless steel to make sure that they never rust and remain sharp. The kit can be used for manicure, pedicure, shaping eyebrow, cuticle care and anti-acne. All the pieces come neatly arranged in an attractive pouch, making it easy to store and carry.
A shower should be able to thoroughly clean and exfoliate the skin to eliminate dirt and dead skin cells. And the AXE Shower Tool is a perfect bath-essential that can provide you with a thorough shower every single time. The mesh side of the sponge creates lather, whereas, the scrub side smoothens the rough spots to ensure that you have a clean and thorough bath. The ergonomic grip of the sponge ensures that you are able to use it easily while showering.
Also Read: 15 Best Gift Ideas for Men's Grooming in 2022
This 2-Piece Clipper Set is a perfect accessory for every grooming kit. The toenail/fingernail clippers are made from surgical-grade stainless steel and will never rust, corrode or tarnish. The clippers are excellent for trimming thicker nails that are an outcome of psoriasis, diabetes and fungus. The clippers come with a lifetime guarantee and 100% no-hassle refund if you are not satisfied with the product.
While trimmers and clippers are great, a grooming kit also needs a good comb and scissor to take care of the mustache, beard, eyebrow, ear, and nose hair. This Rounded Tip Facial Hair Scissors and Comb Set from Sterling Beauty Tools will be a perfect addition to a grooming kit and can be used for a variety of applications. Made from high-quality materials, the scissor and comb come with manufacturer's guarantee and 100% refund if you are not satisfied with the product.
Ideal for men and women, this Facial Hair Scissor is much better than standard scissors which majority of men use on face. The scissors are made from surgical-grade stainless steel and have a unique design to offer a comfortable trimming experience with utmost precision. The scissor can be used to trim eyebrows, nose and ear hair, as well as mustache.
Men who are looking for professional trimming at home are sure to benefit from this Beard Shaping Tool from GuideLine Pro. Made from high-quality plastic, the shaping tool is extremely easy to use and is sure to provide precise and consistent results. The tool has a non-slipping design and numbering system to make it easier for men to shape their beard.
These Professional Nail Scissors from Sterling Beauty Tools is for the times when just a clipper is not enough to get the required nail trimming results. The scissors are made from Japanese 410 stainless steel and have comfortable rounded handles for easy cutting. The scissors are rust, corrosion and staining resistant, and come with a neat PVC storage bag to store and carry the scissor.
This 21-Piece Chrome Custom Haircut Kit from Conair can be an excellent gift for men who like to trim their hair and beard at home. The trimmer included in the set features DC motor for powerful cutting performance and has 50 built-in length settings for precise results. 9 comb attachments, barber comb, barber cape, styling clips, scissors, cleaning brush, instructional CD, etc. are included in this set.
Men who love grooming products that are good at multitasking are sure to be impressed with this Tweezerman Exclusive Rose Tea Brow Shaping Scissors & Brush. The comb has a patented design which is pretty simple to use and provides precise result every single time. The comb and brush can be used to separate, blend as well as comb the eyebrows for a neat, uniform look.
Widely used by professionals, this Precision Grooming Set from Majestic Bombay is a must-have in every man's grooming kit. The splinter tweezers and scissor included in this set are made from stainless steel to ensure that they remain protected from rust. The pointy ends of the tweezers ensure enhanced precision while the comfortable handles of the scissor make sure that you are able to use it comfortably.
Also Read: 21 Cool Gift Ideas for Women's Grooming in 2022
This unisex Manicure and Pedicure Kit from Harbour Housewives includes a total of 12 pieces that are ideal for the upkeep of your fingernails, toenails and eyebrows. The pieces are made from stainless steel and come in a compact faux leather pouch, making it easier for you to carry the set as well as store it.
Every men needs a good toiletry bag in which he can keep all the grooming tools and products neatly organized. If you are planning to gist one such bag to your man, this Lavievart Toiletry Bag can be a great choice. The bag is made from water-resistant material and has padding for enhanced protection. The bag has roomy interiors and can easily accommodate grooming essentials of 2-3 persons.
Men who love precision can never get the required hair cutting and trimming results with a standard pair of scissors. What they need is a professional pair of scissor, like this 7" Hair Cutting Scissor from Sterling Beauty Tools. The scissor is made from 420 grade Japanese stainless steel to ensure that they do not corrode, rust or tarnish. Moreover, the scissor comes with a carbon styling comb as well as a storage bag.
There are only a few grooming products for men that are useful and stylish at the same time. And this Stainless Steel Grooming Kit from Queentools is one of those products. The kit includes 11 pieces, including clippers, tweezers, scissor, blemish remover, etc. made from stainless steel to ensure long-lasting shelf life. All the pieces are neatly arranged in a PU leather case to ensure that the kit can be easily stored and carried.
If your man loves to keep beard, he will surely appreciate this Beard Comb and Boar Bristle Brush Kit from Bear Man Grooming. The comb and brush in this kit are made from natural materials to promote the growth of beard and ensure its upkeep and wellbeing. The kit comes with a lifetime guarantee, so you can rest assured that the comb and brush will provide you with a flawless functionality for years to come.
There are some products that have been associated with men for a very long time and one such product is this Sandalwood Shaving Cream and Bowl from Taylor of Old Bond Street. The shaving cream is made from cedar and sandalwood along with the subtle floralcy of lavender, rose and jasmine. The included bowl makes it easier for men to lather the shaving cream, making it a perfect addition to every shaving kit.
A good shaving cream is very important for a good shave and if it is this Sandalwood Shaving Cream from The Art of Shaving, you can rest assured that the results will always be impressive. The shaving cream is made from ingredients that soften the beard and lifts it to make it easier for men to have a much closer shave. It protects the skin from razor burn and irritation, and also keeps the skin hydrated for long duration after shave.
Men with sensitive skin often have to suffer from cuts and nicks while shaving. But these annoying cuts and nicks will be substantially reduced with this Luxury Shaving Cream for Sensitive Skin from Taylor of Old Bond Street. The shaving cream does an excellent job of making the facial hair soft and lifting them to allow men to easily shave them. Moreover, the shaving cream hydrates and leaves a subtle fragrance on the skin.
Taylor of Old Bond Street is one of the oldest and most popular shaving cream brands from England. This Shaving Cream from their Eton College Collection is made from ingredients that form compact lather while shaving to make it easier for men to shave. The cream has an invigorating fragrance and leaves the skin fresh and hydrated after every shave.
Gift your man this Lavender Shaving Cream from The Art of Shaving and make his shaving experience a lot more rewarding. The ingredients used in this shaving cream keep the skin hydrated for longer duration to make it look fresh and attractive. The shaving cream lifts the hair, making it easier for the men to get a much closer shave.
If a man with sensitive skin likes to use shaving gel, it can be very difficult for him to find a gel which is exclusively created for their skin type. But with this Edge Shave Gel for Men with Sensitive Skin, every man can now enjoy a smooth and close shave without any nicks or cuts. The gel contains aloe which lubricates and moisturizes the skin, whereas, the cooling conditioners used in the gel leave a refreshing feeling.
Ingrown hairs, razor bumps, redness and rashes from shaving, electrolysis and waxing are some of the most common skin problems for men. All these problems will be a thing of the past with this Tend Skin Care Solution. The solution contains ingredients that reduce the ingrown hairs after waxing or shaving while also preventing razor burns and bumps. Apart from men, even women can use this solution.
Gillette is now one of the most popular brands when it comes to razors and shaving creams and gels. This Fusion Hydra Gel from the company is especially created for men with sensitive skin to make sure that they don't suffer from razor burns, nicks or cuts while shaving. The gel hydrates the skin and makes the hair softer for an easier shave and has been created with advanced glide technology to ensure that the razor moves smoothly on the skin.
This 24-hour body odor and wetness protection unit will keep you away from odor for 24 hours. This product is body heat activated and will keep you dry for all day long. This can be a perfect gift for those man who work on field like game teacher, athlete etc.
Men with dry or sensitive skin will benefit substantially with this AVEENO Therapeutic Shave Gel. The shave gel is made from therapeutic ingredients that help in preventing razor bumps and soothing sensitive and dry skin. The shaving gel hydrates the skin and keep it looking fresh and healthy for long hours after shaving.